Word of the week 18/09/15
This week my word of the week is:
TRAINS
Everyday to get where I need to be, I have to catch the train. I got to know some people making the same trip and that makes it more fun. There's a lot of other people in the same journey and it's only a small train so luckily I get on near the beginning so I usually manage to get a seat.
As you may know if you read my other post "Wrong Train" I got on a completely different train which was a bit of an issue especially as know one knew where my town was so couldn't really give advice. Eventually though I got it sorted and was home safe and sound.
Most of the time I'm all right but the early starts to get on the train in time is very difficult. Slowly the time I get up is getting later. Although I like the extra lie in if it gets any later I will miss my train - there's only so fast you can get changed and ready!
So apart from the longer days, early mornings and getting on the wrong train it has all been running smoothly. I'm on the right track (sorry for that pun but I had to be done).
Have a wonderful week, I apologise to all the other people who take part in word of the week for not being so involved recently it's been a bit crazy! I really appreciate any comments.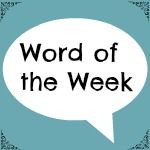 The Clumsy Wordshaker